Several companies are already incorporating robotic processes. For instance, Telefónica's O2 business has automated 15 core business processes such as credit checks and order processing using "software robots" developed by Blue Prism, a U.K.-based automation firm. The robots perform the equivalent workload of nearly 100 full-time employees, according to Blue Prism.
Kinson believes that automation may be key to improving economic productivity, which is a measure of output per unit of labor. For instance, the U.K. has struggled to improved productivity in recent years. The country saw output per hour fall by 1.2 percent in the fourth quarter of 2015, according to the Office for National Statistics.
"Given the investment in technology over the last thirty years, it would be reasonable to expect that the productivity of the white collar worker should have improved by similar levels as the blue collar worker," Neil Kinson, chief of staff at robotic automation company Redwood Software, told CNBC via email.
"The reality is quite different, and we at Redwood see robotics as the key to liberate those workers from the mundane and repetitive work and to finally close that productivity gap, and deliver against what technology promised."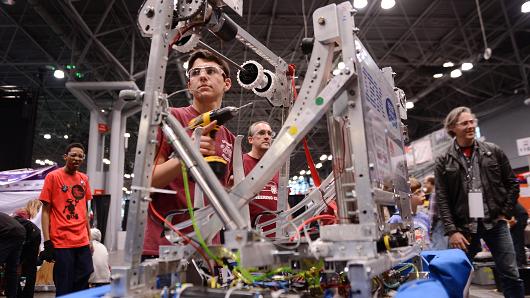 Kinson dismissed fears that every white collar worker is in danger of losing their jobs to robots.
"There's been a lot of talk in the marketplace about this impending doom and collapse associated with the rise of this robotic technology, but this is an opportunity to enrich the activities of the people that remain."
Kinson also suggested that automation was an alternative to companies attempting to cut production costs by moving operations offshore.
"If I can produce a robotic labor force, maybe I don't need to look to ever more rural parts of India or further and further undeveloped economies to find that lower cost labor force," he said.
"Actually, what I can do and would otherwise seem impossible is retain the high value work which involves thought and judgement and eliminate what is really highly mundane and repetitive."